Terms of Use and Data Privacy Notice
TERMS OF USE
Welcome to our website. If you continue to browse and use this website, you are agreeing to comply with and be bound by the following terms and conditions of use, which together with our privacy policy govern Ville St John Academy relationship with you in relation to this website.
The use of this website is subject to the following terms of use:
PERSONAL USE
This Website is for non-commercial, personal use only.
ALTERATIONS
The content of the pages of this website is for your general information and use only. It is subject to change without notice.
COPYRIGHT
This website contains material which is owned by or licensed to us. This material includes, but is not limited to, the design, layout, look, appearance and graphics. Reproduction is prohibited other than in accordance with the copyright notice, which forms part of these terms and conditions.
DATA PRIVACY NOTICE
VILLE ST JOHN ACADEMY is committed to protecting student information in accordance with the Data Privacy Act of 2012. We have written this Data Privacy Notice to let you know what and how we collect, use, store, share and protect the student's personal information. Below, we explain the type of information we collect, what we use it for and who we may share your information.
I. WE COLLECT PERSONAL INFORMATION.
The personal information we collect from the student or from the authorized representative is the following, but not limited to:
Basic information such as complete name, date of birth, birthplace, gender, nationality, religion, education history, ESC Grantee and SHS Voucher.
Parent's information such as father's complete name, mother's complete name, guardian complete name.
Contact information such as a complete address, mobile numbers, landline numbers, and email address.
We collect supporting documents and will be submitted to the admission office.
We collect some of the information via our online registration provided to us by our service provider.
II. HOW WE MAY USE AND DISCLOSE INFORMATION'S COLLECTED.
As an education institution, we are permitted by the law to make certain uses and disclosures on the student's information without your specific written authorization. Your personal information shall be used and disclose for the following, but not limited to;
SUPPLIER OR BUSINESS PARTNERS - In some cases, we are acquiring service of third parties performing activities for or in our behalf who may share and disclose your information.
COMMUNICATIONS AND REMINDERS - We may use your contact details for the purpose of notification and reminders.
PERSONAL REPRESENTATIVE - For example, the parent or legal guardian of a minor is considered as personal representative.
LEGAL ACTIONS OR LAW ENFORCEMENT - We may disclose your information when required by the law and/or government authorities, such as the course of legal proceedings such as receipt of a subpoena from the court of law. We may disclose certain information as we believe is required, necessary, or appropriate in the following: under applicable law, including laws outside your country of residence; (b) to comply with legal processes and/or respond to requests from competent public and government authorities including public and government authorities outside your country of residence; (c) to enforce our terms and conditions; (d) to protect our operations and those of any of our affiliates; (e) to protect our rights, privacy, security, safety, and physical and intellectual property, and/or rights of our affiliates, you, or others; and (f) to allow us to pursue available remedies or limit the damages that we may sustain.
We do not sell your information to marketing companies outside our organization. We generally process information only for those purposes that we have transmitted or communicated with you.
III. MANAGE YOUR INFORMATION
If you would like to correct, update or delete or request access to your information. We may request that you visit us at Ville St. John Academy, Maharlika Ave. Phase 5 Marcelo Green Village, Parañaque City
IV. STORAGE OF INFORMATION
The information we collect may be stored and processed in servers in our School Campus at Maharlika Ave. Phase 5 Marcelo Green Village, Parañaque City and wherever our service providers have facilities around the globe and in accordance with local laws.
V.CHANGES TO THIS PRIVACY NOTICE
We may change or revised our data privacy notice without prior notice to you. We reserve the right to change or add to this data privacy notice from time to time. We will notify you of any significant changes to this data privacy notice.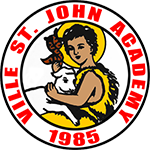 VILLE ST JOHN ACADEMY
Maharlika Ave. Phase 5 Marcelo Green Village, Parañaque City
Tel. 8982 – 0329 (Accounting Office)
Telefax. 8821 – 7147 (Principal's Office)
Copyright © 2019 Ville St. John Academy. All rights reserved.
School Institution Terms of Use and Data Privacy Policy
AFFILIATIONS

PAASCU Accredited
Philippine Accrediting Association of Schools, Colleges and Universities

CEAP Member
Catholic Educational Association of the Philippines