Ville St. John Academy is a Catholic school owned and managed by the Sisters of St. John the Baptist. It is situated in the most tranquil end of Marcelo Green Village, Maharlika Avenue, Phase V, Parañaque City. It has the utmost conducive atmosphere free from the hassle of the city. It fosters the "Family Spirit" which is clearly seen in the various activities set forth in and outside the school campus.
The Baptistine Education apostolate first started in the small town of Angri, Salerno, South of Italy, by the Sisters of St. John the Baptist through the paternal guidance of its Founder, Blessed Father Father Alfonso with the purpose to educate and evangelize the orphan of war with gospel values and to liberate them from ignorance, exploitation so they wouldn't become problems of society. This tiny seed has spread throughout (17) seventeen countries namely, United States, Brazil, Zambia, Canada, Chile, Israel, Botswana, India, Poland, Korea, Argentina, Philippines, Mexico, Albania, Romania, South Africa & Cameron.
On October 29, 1983, Sr. Guisepina Primiani, Sr. Lina Petrucelli and Sr. Elvirita Vetron arrived in the Philippines and their mission began. On July 2, 1984, they opened a school with a Filipino teacher, an aspirant Leonila S. Francisco at Superville Subdivision. The following year July 2, 1985, they moved to Marcelo Green Village with an initial enrollment of 85 pupils from Pre – school to Grade 1. On July 16 of the same year, Jaime Cardinal Sin, Archbishop of the Archdiocese of Manila, Blessed the newly constructed school.
In the (3) three years of operation, the Pre – school and the Elementary departments were operating under a special license and on December 28, 1988, it was granted government recognition.

The High School Department, which started its operation in School Year 1988 under special license, was granted government recognition of July 5, 1991.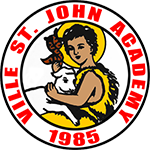 VILLE ST JOHN ACADEMY
Maharlika Ave. Phase 5 Marcelo Green Village, Parañaque City
Tel. 8982 – 0329 (Accounting Office)
Telefax. 8821 – 7147 (Principal's Office)
Copyright © 2019 Ville St. John Academy. All rights reserved.
School Institution Terms of Use and Data Privacy Policy
AFFILIATIONS

PAASCU Accredited
Philippine Accrediting Association of Schools, Colleges and Universities

CEAP Member
Catholic Educational Association of the Philippines