The Student Activity Program is developed to provide opportunities for the students to discover, develop, and nurture their skills, potentials, talents, leadership qualities, socials awareness, sense of responsibility; and commitment. It supports and supplements the curricular offerings of the school through meaningful academic learnings and non academic experiments.
School activities, clubs and organizations and outreach are th components of Student Activity Program. School activities are the output and the performance task of the students presented during the monthly celebrations. The clubs organizations are also called gift programs that caters to the different gifts of the students like swimming, ballet, theater arts, liturgy club, taekwondo, volleyball, basketball, badminton, and others. Student who excel in their clubs are encouraged to join in inter-school competitions like those held in Singapore, Malaysia and Thailand.
The outreach program aims to foster community sharing and concern as a real "gift to others". Students interact with the children in the neighboring developmental areas in Marcelo Village particularly in Creekville and Manggahan. The Sisters and Teachers accompany them every Saturday and they follow up thee students' experiences and integrate the values they have learned in their lessons.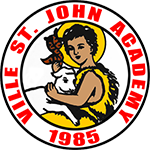 VILLE ST JOHN ACADEMY
Maharlika Ave. Phase 5 Marcelo Green Village, Parañaque City
Tel. 8982 – 0329 (Accounting Office)
Telefax. 8821 – 7147 (Principal's Office)
Copyright © 2019 Ville St. John Academy. All rights reserved.
School Institution Terms of Use and Data Privacy Policy
AFFILIATIONS

PAASCU Accredited
Philippine Accrediting Association of Schools, Colleges and Universities

CEAP Member
Catholic Educational Association of the Philippines